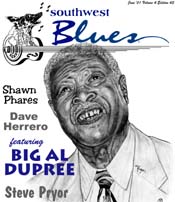 Keeper of the "B"
Review by Dr. Bill Fountain, MD


There are many questions that a person has to ask themselves in the course of their samsaric existence. Why are we born? What is the meaning of life? Why do we die? Why do they even bother to sell bathroom scales at Walmart that don't go over 300 pounds? But of all these important points to ponder, the most essential, most driving question of the ages would have to be this: Why are there not more blues albums featuring the amazing, truly unique sound of the Hammond B3 organ?

Thank Buddha that question finally has an answer in the form of this new release from local keyboard wizard Tommy Young. This collection of 15 tunes is swinging stuff. Lots of vibrato and lots of that deep bodied pulsing energy that can only come from a master technician working his keys. Young is a great player and really has a great method to his madness. Most of the tunes are original and engaging. I love his take on the Jackie Gleason Theme Song. It reminded me of hearing those fantastic and somewhat infamous Gleason romantic orchestra records my mom and dad had hidden in the old stereo when I was just a tiny pup. If you are as ancient as I am, you know the ones I am talking about. It is much that same spirit onboard here with Young. He definitely creates some great atmospheres. Not to mention featuring some fine guest performances. Oh dang. I said I wasn't going to mention that!

You got folks like Tommy Nash, Ron Thompson, Mitch Marine, Willie Smith, TY, Mike Medina, Chuck Rainey and some dude named Andy Timmons. The guests turn in some bright performances, but there is no mistaking the spotlight here. Young knows the B3 and her sista Leslie too. Check him out gigging around Big D or better yet, throw down some cheddar and take a big dose of vitamin B3. It's good for what ails ya.

-Dr. Bill Fountain, MD

June 2001 Southwest Blues Magazine. Reprinted with permission.
THIS CD IS DEDICATED TO "C.Y."